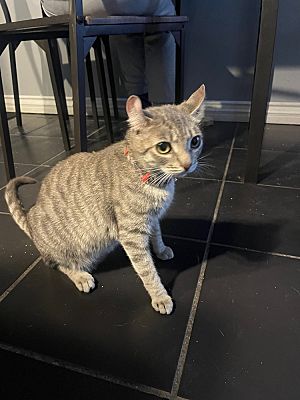 SQUISH BISCUIT is an American Curl which is sometimes nicknamed the "Peter Pan cat," these felines retain kitten-like natures into adulthood, and love to play, investigate, climb, and keep a close eye on their owners. Squish Biscuit loves to hug and watch TV with you. She also loves toys and balls to chase and can play for hours! She would do best with older kids 10+.

Squish Biscuit LOVES to love ….. American Curls are friendly, affectionate, and active cats that are often said to have a somewhat "doglike" attachment to their owners. They like to gently poke and prod their humans with their paws and will often follow their favorite family members from room to room around the house. They are exceptionally intelligent cats as well. Some have been known to figure out how to flick light switches on and off, and many learn how to open and close doors and cupboards.

It's important to note that American Curls don't like to be left alone for too long — So she is best fit for a at-home, retired person, or a definite 8 hour day job – You might have to consider whether your schedule can accommodate several hours of attention and playtime each day.